Power outages caused by "target practice"
Saturday, October 22, 2016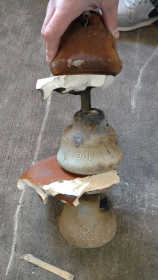 Craighead Electric is offering a $1,000 reward for information leading to the arrest of those responsible for vandalizing a transmission structure last Saturday, which resulted in power outages to many people.
According to posts Craighead Electric made on their facebook page, outages that occurred last Saturday, Oct. 15, were caused by "someone using our poles and insulators as target practice" in the Lunsford area. Around 4,900 people lost power due to the vandalism, which destroyed all three insulators that held a power line in place on the pole.
"This is not just an inconvenience to our members but a very dangerous situation," said Brian Duncan, CEO of Craighead Electric Cooperative. "We want to catch the people before they damage more facilities or injure the public. This is more than just a day of fun target practicing. According to federal Law, this is an act of terrorism."
Anyone with information is encouraged to contact either the local sheriff or Craighead Electric at 800-794-5012.