Lepanto to hold public meeting regarding water rates
Friday, October 21, 2016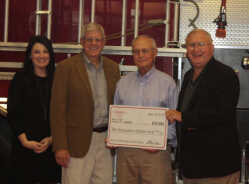 The city of Lepanto will hold a public meeting next month to get public input on a proposed increase for water and sewer rates. The meeting is scheduled for 6 p.m. on Tuesday, Nov. 15, before the regular city council meeting, which will begin at 7 p.m.
During last month's city council meeting, Mayor Dale Dunlap gave the council information on a proposed water rate increase, which he called very minimal. He said a home that uses 2,000 gallons a month would go from being charged $8.50 to $8.75.
The council discussed the proposed rate increase Tuesday at their October meeting, with several agreeing it would help the city. "I stated six years ago that no matter what the sales tax is, we're going to have to raise water rates," said Alderman Earnie Hill. The council voted to proceed with holding a public meeting. After the meeting, they would have to approve an ordinance for the rate increase to go into effect.
In other business, the council approved a resolution extending the current tax millage rate to the 2017 year. Mayor Dunlap told the council that the Fire Department received a $10,000 GIF Fire Protection Grant to buy turnout coats. The city is also moving from analog to digital radios for fire and police, which they can get on a five-year lease at $438.69 a month with no down payment. Mayor Dunlap also said they are still working on getting lighting at the city park on the south side of town.