Richard Schmidt
Tuesday, October 25, 2016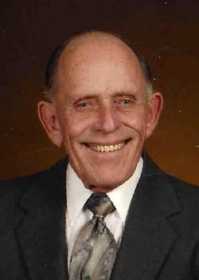 TRUMANN - Richard Fredrick (Dick) Schmidt, 92, died peacefully at his home on October 21, 2016. He was born on December 8, 1923, in Omaha, Neb. to John P. and Bertha Schmidt. On June 16, 1948, he married his sweetheart, Eva Elizabeth (Koerkenmeier) in Tipton, Mo. and moved to Jonesboro in 1952 (and eventually Trumann in 1964); they had six children. He was a member of Blessed Sacrament Catholic Church and the Knights of Columbus.
On July 29, 1943, he joined the Army and was assigned to Fort Leavenworth, Kan. He was assigned to the 323d Infantry and deployed to the Pacific front as a Private Tec 5. A veteran of WWII, he participated in the invasion of Northern Solomon's and the Southern Philippines. He was awarded the Good Conduct Medal, Bronze Arrowhead Medal, Distinguished Unit Badge and the Philippine Liberation Ribbon. He was discharged with full honors on January 16, 1946. Mr. Schmidt was a brave and loyal soldier, as well as a patient and loving father. Other accomplishments include past chairman of the Poinsett County Republican Party and past member of the Poinsett County election commission. He loved the game of tennis serving as president of Trumann Tennis Association and conducted many summer clinics for the youth of Trumann. He was a sales manager for American General Life Insurance Company holding the Chartered Life Underwriter designation. He was preceded in death by his wife of 58 years, Eva; his son, Steve, and a grandson, Patrolman Jonathan Schmidt EOW 4/13/2011; two sisters, Leoba Knipp and Agnes Webber; one brother, Father Raymond Schmidt and his parents.
He is survived by two daughters, Susan and Loran Jeanneret of Prairie Village, Kan.; Doris and Dennis Penter of Trumann; three sons, Wayne and Janet Schmidt of Benton, Ark.; Donald and Kathy Schmidt of Trumann and Dr. David Schmidt of Cabot, Ark.; daughter-in-law, Kathy Schmidt of Trumann; 13 grandchildren; 15 great-grandchildren and several nieces and nephews.
The grandchildren will serve as pallbearers: Dennis Jr., Zach and Jesse Penter, Courtney Schmidt, Dr. Donald Schmidt, Jr., and Dr. Logan Schmidt. Honorary pallbearers are grandchildren: Dr. Genie Burnett, Kristie Dickson, Deanna Macarthur, Andrea Carlisle, Sarah Ferguson, Isabella Schmidt and Lathrop Schmidt. Other honorary pallbearers: Hubert Brodell, Charles Zipfel, Bob Myshka and the Knights of Columbus.
The funeral Mass was held Oct. 24 at the Blessed Sacrament Catholic Church in Jonesboro with Father Desam, Associate Pastor officiating. Burial followed at Holy Cross Cemetery in Jonesboro under the direction of Thompson Funeral Home.
Our heartfelt thanks go to Marcella Boswell, Virginia Chaffin, Carolyn Loggins and Pat Flora for their tender, loving care and St. Bernard's Hospice.
In lieu of flowers, the family suggests contributions to the Blessed Sacrament Church Building Fund, P.O. Box 1735, Jonesboro, AR 72403. Envelopes will be located in the Church.
An online register book can be signed at thompsonfuneralhome.net