Junior Indians drop season finale to Cross County
Thursday, October 27, 2016
Marked Tree (2-5, 2-4 2A-3) played close for the first half trailing 8-6 at the half. The second half was a different game as Cross County found the end zone three times on their was to a 32-6 in the last game of the season for Marked Tree.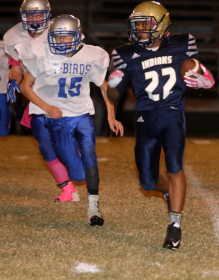 Marked Tree got the ball first to start the game and started at their own 36-yard line when the Cross County kick went out of bounds. The Junior Indians moved the ball to the Junior Thunderbird's 30-yard before a fourth down pass from Eli McCrary and Cameron Wray fell incomplete turning the ball over to Cross County. The Junior Thunderbirds drove down and scored on a long touchdown run to take a 6-0 lead with 1;20 left. The two-point play was good to make it 8-0. #80 fell on the ensuing squib kick-off for Marked Tree giving them the ball on their own 48-yard line. The first quarter ended with Marked Tree driving the ball.
The Junior Indians started the second quarter with a first down at the Cross County 40-yard line and would find the end zone a couple plays later as Wray took the double hand-off from Lane Thompson an scampered 35 yards for a touchdown. McCrary was stopped on the two-point conversion run to make the score 8-6 Cross County. Marked Tree got a turnover on downs to take over possession at the the Junior Thunderbird's 45-yard line with 3:39 left. The Junior Indians looked to have converted a fourth down pass play but McCrary's pass to Wray was ruled out of bounds giving the ball to Cross County on their own 42-yard line with 14 seconds left in the half. Marked Tree's Thompson scooped up a fumble and returned it for a touchdown as horn sounded only to have it negated when the officials ruled the runner was down ending the half with Cross County leading 8-6.
Full game article in the October 27 edition of the PCDT!