Bay outlasts Riverside in basketball clash
Thursday, October 27, 2016
Bay (2-0) withstood a late charge from Riverside to beat the Rebels 64-57 this past Tuesday in high school basketball action at Bay.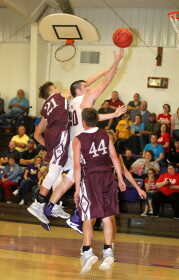 Riverside open the scoring with a basket to make it 2-0 Rebels before Bay got a basket from Dustin Utley followed by one of two free throws and a conventional three-point play from Caleb Hartgen to give the 'Jackets a 6-2 lead. Nolan Smith scored inside for Bay before Dax Gibson scored off an offensive rebound to increase the Bay lead to 10-2 with 2:20 left. The Rebels scored the next seven points to cut the Bay lead to 10-9. Taylor Layne netted back to back three pointers to give the Yellowjackets a 16-9 lead. Riverside scored a basket right before the buzzer to make the score 16-11 Bay after one quarter of play.
Gibson scored off his own missed shot for the first points of the second quarter only to see Riverside score the next five points to make the score 18-16 Bay. Utley scored off an offensive rebound and Layne Austin added two free throws making the score 22-16 Yellowjackets. The Rebels got a score, Utley hit a jumper in the lane for Bay as Riverside hit one of two free throws to make the score 24-19 Bay. Layne scored inside for Bay before the Rebels scored the next eight points to take a 27-26 lead with 24 seconds left in the half. Layne hit four straight free throws in the last five seconds of the quarter to give Bay a 30-27 lead at the half.
Full game story in October 27 edition of the PCDT!