Area sports roundup
Thursday, October 27, 2016
Whitlee Layne scored 29 points as the Bay Lady Yellowjackets (3-1) beat Mount Vernon-Enola 50-46 this past Tuesday in high school basketball at Jasper. Mallory Hartley grabbed ten rebounds for Bay on the night.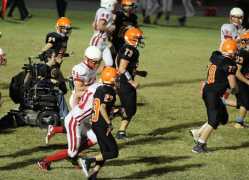 The Harrisburg Lady Hornets had their volleyball season come to an end this past Tuesday as they fell 23-25, 25-15, 25-22, 19-25, 15-13 in a hard fought five set match to Central Arkansas Christian in the Class 4A state volleyball tournament being held in Lonoke. Emily Newcomb was 19 of 21 serving with 34 assists, Olivia Deckelman was 14 of 15 serving with 25 kills, Lacey Lambright finished with eight kills as Destany Lovell had seven kills and two blocks.
The Bay Yellowjackets (1-0) opened their season this past Friday with a 94-76 win over Alpena in Norfork. Bay was led by Dustin Utley with 28 points as Taylor Layne finished with 27 points. Slade Grove added 12 points and Dax Gibson netted 11 points for Bay.
Bay's Lady Yellowjackets (2-1) dropped a 38-37 decision to Nemo Vista this past Friday night in Brockwell. Whitlee Layne led Bay with 17 points with Abby Frisby adding 14 points.
Trumann (5-3, 3-2 4A-3) got three rushing touchdowns Cade Gartman and Garrett Woods scored on both sides of the ball as the Wildcats beat Brookland 35-7 this past Friday night in Brookland. Gartman finished with 132 yards to lead Trumann as Woods finished with 40 yards rushing with Jay Morgan chipping in 35 yards rushing. Chandler Weitkamp led the Wildcats defense with five tackles as Woods had an interception return for a touchdown and a fumble recovery. Jesse Penter also had a fumble recovery for Trumann.
Harrisburg (0-8, 0-5 4A-3) traveled to Westside this past Friday and were handed a 42-0 loss by the Warriors. Noah Benintende led the Hornets in rushing with ten yards as Malik Versie led in receiving with 20 yards. Clay Wright completed three of six passes for 15 yards. Brandon Jones finished with eight and a half tackles to lead the Harrisburg defense with Dakota Bass adding five and a half tackles.
Marked Tree (5-3, 3-2 2A-3) let a 24-14 lead over Salem in the fourth quarter almost slip away as Salem's field goal attempt with 13 seconds left fell short as the Indians escaped with a 30-28 win this past Friday in Marked Tree. Julian Booker led Marked Tree with 177 yards rushing a touchdown as Braidin Hall added 75 yards rushing and a touchdown. Justin Ellis also had a rushing touchdown for the Indians. Chase Tilley led the defense with nine tackles as Kylen Johnson and Hall added eight and seven respectively.
The Harrisburg Junior Hornets (2-6, 0-6 4A-3) lost 42-6 to Westside this past Thursday night in junior high football action at Hornet Stadium. Gavin Grubbs scored the only touchdown for Harrisburg and finished with 92 yards rushing. Brennon Honeycutt completed five of ten passes for 25 yards with Daniel Woodson catching two passes for 12 yards. Kohl Dixon led the Junior Hornets defense with three and a half tackles.
Trumann's Junior Wildcats (2-6, 1-5 4A-3) hosted Brookland this past Thursday night and were handed a 16-6 loss by the Junior Bearcats. Chase Parrish led Trumann with 28 yards rushing as Ben Woodruff added 25 yards rushing. Jaden Osment rushed for 20 yards and a touchdown with Isaiah Carillo adding 13 yards rushing.
The EPC Junior Warriors (3-4, 3-3 2A-3) lost their season finale 44-12 to the Earle Junior Bulldogs this past Thursday. Austin Baker led EPC in rushing with 89 yards as Hank Knapp finished with 60 yards rushing. Preston Rains and Kade Jennings both had a touchdown rushing for the Junior Warriors.