Veda Kennedy
Wednesday, November 2, 2016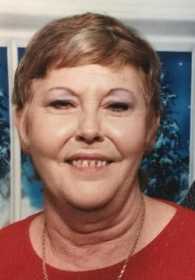 TYRONZA - Mrs. Veda Kathrine Kennedy, 62, of Tyronza, Ark., departed this life on Thursday, October 27, 2016 at Flo & Phil Jones Hospice House in Jonesboro, Ark. Mrs. Kennedy was born in Newport, Ark. and lived in Tyronza the last 10 years and was formerly of Marked Tree and Trumann. She was a housewife and of the Baptist faith. Mrs. Kennedy was preceded in death by one son, Richard L Collier, Jr; two sisters, Lois and Sharon Creecy; one brother, Frank Birmingham and her parents, Richard Gerald and Muerl Myers Birmingham.
She is survived by her husband of 13 years, Willard Kennedy of the home; three sons, Timothy Collier, Travis Collier and Kevin Collier all of Marked Tree; three step-daughters, Rebecca Wilson of Cleveland, N.C., Christy Hill of McCrory, Ark., and Angela Edwards of Mooresville, N.C.; two sisters, Jenny Densmore of Turrell, Ark., and Phyllis Whitehurst of Little Rock; one brother, Bill Birmingham of Drasco, Ark.; six grandchildren; and two great-grandchildren.
Funeral services were held Tuesday, Nov. 1 in the chapel of Thompson Funeral Home in Trumann with Bill Craft officiating. Burial followed at Potters Memorial Cemetery in Lepanto.
Pallbearers were Tim Collier, Dustin Watts, Billy Birmingham, Derrick Birmingham, Jon Bolden and Jake Collier. Honorary pallbearer was Hayden Collier.
An online register book can be signed at www.thompsonfuneralhome.net.