Junior Horents shutout in season finale
Thursday, November 3, 2016
Harrisburg (2-7, 0-7 4A-3) had a hard time stopping the Brookland ground game as the host Junior Bearcats posted a 42-0 win over the Junior Hornets in the season finale for both teams.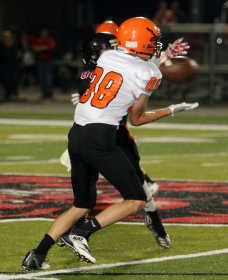 Brookland got the ball first and scored on their first drive with a three-yard run to make it 6-0. A successful two-point run make the score 8-0 with 6:32 left. Jacob Wallace returned the ensuing kick-off out to Harrisburg 49-yard line to set the Junior Hornets up for their first drive. The Harrisburg offense couldn't get going as the Junior Hornets punted the ball away with Cody Lawson's punt being downed at the Brookland 26-yard line with 5:36 left. The Junior Bearcats hit pay dirt again with a 58 yard jaunt to make the score 14-0 Brookland with 4:08 left in the first quarter. Ross Heeb made the stop on the two-point try for Harrisburg. Wallace again returned the kick-off for Harrisburg bringing the ball to the Junior Hornets 49-yard line. Harrisburg turned the ball over on downs when Brennon Honeycutt's pass fell incomplete giving Brookland the ball on their own 49-yard line with 2:32 left. The Junior Bearcats took advantage of the turnover as they scored on a 44 yard run to make the score 20-0 with 1:39 left. The two-point conversion was good making it 22-0 Junior Bearcats. Daniel Woodson returned the kick-off for Harrisburg to the Brookland 45-yard line. The quarter ended during Harrisburg's possession with Brookland up 22-0.
Harrisburg was facing third and long when the second quarter started with Honeycutt's pass to Woodson only gaining six yards forcing the Junior Hornets to punt. Lawson's punt was downed on the Brookland 15-yard line. The Junior Bobcats' ground game struck again as they got an 80 yard touchdown run to make the score 28-0 with 4:38 left. Brookland added the extra-point to make the score 29-0. Faulkner returned the Brookland kick-off out to the Harrisburg 35-yard for the Junior Hornets' next possession. The Junior Hornets' offense was again ineffective as they were forced to punt. Honeycutt's punt was downed at the Junior Bearcats' 45-yard line with 2:42 left. Brookland moved the ball to the Harrisburg 40-yard before they scored on a 40 yard run with 1:16 left in the half. The extra-point was no good leaving the score 35-0 Brookland. Presley Witt returned the kick-off out to the Harrisburg 40-yard line with just under a minute left. The first half ended during the Junior Hornets' drive.
Full game article in November 3 edition of the PCDT!