Indians take road conference win at Rector
Thursday, November 3, 2016
Marked Tree (6-3, 3-2 2A-3) jumped out to an early first half lead over Rector (0-7, 0-5) on their way to a 32-0 conference win this past Friday at Rector.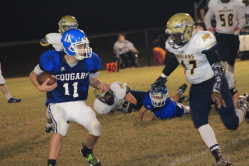 Marked Tree had a high snap on a punt attempt and the Cougars recovered at the Indian four-yard line. An offside penalty against Marked Tree moved the ball to the two-yard line. After Chance Scott ran for one yard, the Cougars had an incomplete pass and a motion penalty. The threat ended on a fumbled snap on third down that was recovered by the Indians
.
Marked Tree quarterback Jack Brown quickly got the Indians out of the hole with a 41-yard run to midfield. The visitors then scored ten plays later on a six-yard run by Brown. Braidin Hall's run for the PAT made it 24-0 with 11:41 left in the game.
Rector's next possession ended on a ten-yard loss on a quarterback sack, followed by a personal foul penalty that set up the Indians on the Cougar 17. Marked Tree iced the game with a one-yard touchdown run by Paul Coleman with 8:18 showing. Justin Ellis tacked on the PAT on a run to make it 32-0. Neither team mounted a serious threat the rest of the way.
Rector played a strong first half and trailed only 16-0 at intermission and had a great opportunity to get back in the game early in the third quarter.
The game started badly for the Cougars. Marked Tree had a successful onside kick, recovered at the Cougar 49. It took only three plays to score, with the TD coming on a 13-yard run around right end by Hall. Justin Ellis ran for the conversion, making it 8-0 with 10:30 left in the first quarter
Full story in November 3 edition of the PCDT!