Big second half carries Warriors to road win
Thursday, November 3, 2016
EPC (6-3, 4-1 2A-3) outscored Cross County 22-0 in the second half to give the Warriors a 36-22 win creating a three-way tie at the top of the conference. EPC will play Earle Thursday and with a chance to win the conference.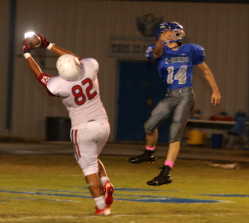 EPC got the ball first after Cross County deferred to the second half. Tysean Garrett fell on the Thunderbirds' squib kick giving the Warriors the ball on the Cross County 47-yard line. The Warriors put together a 47 yard drive ending in Chanc Gray's four yard touchdown run with 8:25 left. Gray added the two-point conversion run to make the score 8-0 EPC. The Thunderbirds wasted little time on their next possession as they scored in three plays with the touchdown coming on a 49 yard pass play. The two-point conversion was good to make the score 8-8. The ensuing kick-off didn't travel ten yards so the Warriors took possession at the Cross County 48-yard line. The fumble bug bit the Warriors as Eric Driver coughed the ball up with the Thunderbirds recovering at their own 43-yard line with 6:49 left. Cross County drove the ball to the EPC 13-yard line before Michael Jobe knocked down a fourth down pass in the end zone to give the Warriors the ball with 1:25 left. The Warriors were forced to pun with Hunter Taylor's punt being downed at the Cross County 45-yard line as the first quarter ended with the score tied 8-8.
Cross County used their ground game to move the ball to the EPC 25-yard line before a fourth down pass fell incomplete giving the Warriors the ball. Trevor Walker broke free for a run to the Thunderbirds' 42-yard line where a horse collar penalty against Cross County moved the ball to the 27-yard line. EPC moved the ball inside the five before a personal foul on the Thunderbirds moved the ball to the two-yard line. Gray punched it in for the score to make it 14-8 Warriors. Gray's two-point pass play was intercepted to keep the score the same with 5:39 left. Cross County answered the EPC score with a score on a 28 yard touchdown pass. The two-point try was no good leaving the score 14-14 with 3:10 left. The Thunderbirds recovered their onside kick getting the ball at the EPC 47-yard line. Cross County drove down and scored as the quarter ended. The two-point conversion try was good give the Thunderbirds a 22-14 lead at the half.
Complete game article in November 3 edition of PCDT!