Local lifters do well
Thursday, November 10, 2016
A local team of powerlifters took home several awards and records at the Dallas WABDL Regional bench press and deadlift competition recently.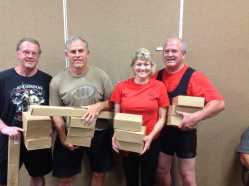 Tom Ekenberg competed in the 242 pound disabled division and had a 382 pound bench press along with a 517 pound deadlift. He finished in first place in both events. He also set a world record in the push-pull (bench + deadlift) with a total of 899 pounds. He also won a best lifter award in the 61-67 year old disabled division.
Eddie Morgan, a teacher at Trumann Intermediate School, competed in the 242 pound, master 61-67 year old division. Morgan placed first in the bench press with a lift of 292 pounds and also placed first in the deadlift with a lift of 617 pounds. He set the sate record in the bench press and world, national and state records in the push-pull. He also got best lifter in the push-pull.
Charlene Watson competed in the master 42-53 year old division and claimed three first place finishes. She set a state record with a 100 pound bench press to go along with a 200 pound deadlift and a 300 pound total in the push-pull.
Tom Morgan, brother to Eddie, competed in the 275 pound 61-67 year old division. Morgan had a state record 297 pound bench press, a deadlift of 451 pounds and tied his world record for the push-pull with a total of 748 pounds.