EPC falls to Earle conference title showdown
Thursday, November 10, 2016
EPC (6-4, 4-2 2A-3) played for at least a share or a possible outright conference title this past Friday at Warrior Field in Lepanto. The Warriors' offense could never get on track as the Earle Bulldogs handed EPC a 26-0 loss. The Warriors finished third in the conference and will travel to Foreman for the first round of the Class 2A state playoffs.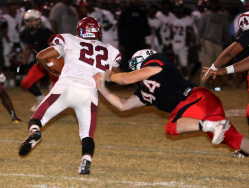 Earle got the ball first and EPC came out and surprised them as Patrick Roach hit a perfect onside kick that Andrew Cavitt recovered at the Bulldogs' 49-yard line. The EPC offense couldn't get anything going before being stopped on fourth down as Gray was sacked to give the ball to Earle on the Warriors' 46-yard line with ten minutes left. Earle drove down inside the 30-yard line before coughing up the ball with Brandon Smith recovering for EPC at their own 25-yard line with 7:45 left. EPC moved the ball to the their own 41-yard line before being forced to punt the ball away. An offsides on Earle made it fourth and three and EPC brought the offense back out with Gary picking up the first down. Eric Driver had a big run down to Earle 26-yard line before the drive stalled and Gray's fourth down pass fell incomplete giving the ball back to the Bulldogs with 1:56 left. The quarter came to a close during Earle's possession with the score 0-0.
Earle moved the ball to the EPC 25-yard line before back to back offsides calls on the Warriors moved the ball ten yards closer for Earle. Earle got on the board with a 15 yard run making it 6-0 with 10:17 left. The two-point try was no good. Andrew Cavitt returned the ensuing kick-off to the Warriors' 40-yard line to start their next possession. EPC converted a fourth down on a Gray run to keep the drive alive before Gray hit Dee Buchanan with a pass to the Earle 30-yard line with 7:20 left. Gray had his pass intercepted in the end zone a few plays later and returned to Earle 10-yard line with 4:14 left. Earle had a long touchdown pass called back before punting the ball away with 1:26 left. EPC returned the favor as they punted the ball back to Earle with the ball being downed at the Bulldogs' 24 yard line with 19 seconds left. Earle's double pass on the last play fell incomplete with the score still 6-0 Bulldogs.
Full game story in November 10 edition of the PCDT!