Tru-Cab expands business
Thursday, November 10, 2016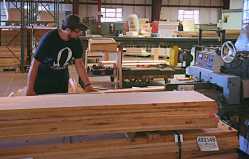 Two years ago, a small cabinet-making business in Trumann was looking to expand. Owners Donna Heard and her son Shawn Sullivan were referred to the Arkansas Small Business and Technology Development Center by Deborah Taylor at First Community Bank. Heard and Sullivan received business plan assistance and market research from Laura Miller at the ASBTDC to assist in their business expansion efforts.
"They already had a small successful business," Miller said, "and we were able to work together to plan for their expansion." The expansion efforts paid off, and now Tru-Cab employs 75 to 100 people. Those are significant numbers for a small business and a small town like Trumann, making Tru-Cab a successful family owned and operated business and part of the lifeblood of Trumann.
Heard and Sullivan are committed to the community and have a wall of successes to prove it. The Arkansas Small Business and Technology Development Center is proud to have supported this family owned business in their expansion, and hopes to continue work with Tru-Cab in the future.
The Arkansas Small Business and Technology Development Center at Arkansas State University is a partnership of the U.S. Small Business Administration, the University of Arkansas at Little Rock College of Business and Arkansas State University College of Business. The ASBTDC assists start-ups, existing businesses and technology businesses. Core services include free consulting and market research plus low to no-cost training. Learn more at astatesbtdc.com.