Area sports roundup
Thursday, November 17, 2016
The EPC Lady Warriors (1-0) opened their season with a 74-14 win over Kipp Blytheville Collegiate this past Monday in girls' basketball. Bre Ward scored 16 points to lead five EPC players in double figures. Kayla Reel netted 14 points, Tileyah Ward finished with 13 points, Jaleigha Garrett added 12 points as Madison Wiggins chipped in 10 points. The EPC Junior Lady Warriors posted a 44-11 win.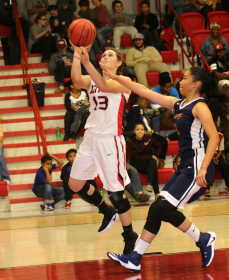 Trumann's Lady Wildcats needed an overtime period in posting a 68-63 win over Cave City this past Monday. The game was tied at 57 at the end of regulation. Zaria McGuire led Trumann with 12 points as Clementine Collins and Daly Taylor each scored 11 points. Olivia Greenwell added 10 points for the Lady Wildcats. Trumann won the junior game 37-24.
Bay (6-4) posted a 51-44 win over Riverside this past Monday in girls' high school basketball action. Whitlee Layne led the Lady Yellowjackets with 19 points as Mallory Hartley had a double-double with 17 points and 10 rebounds. Riverside won the junior high game 52-33. Bay fell to Marmaduke this past Saturday in the Marmaduke Cancer Awareness Classic at Marmaduke. Hartley scored 22 points to lead Bay as Layne and Abby Frisby each had 15 points for the Lady Yellowjackets. Sarah Blackman netted 20 points as Bay (7-4) downed Cross County this past Tuesday. Also in double figures for Bay were Abby Frisby (15), Mallory Hartley (12) and Tot Diaz (11).
Aaron Hamilton scored 17 points but it wasn't enough as Trumann (0-1) fell 53-47 to Cave City this past Monday. Cave City won the junior high game 40-30.
The Harrisburg Lady Hornets got their first win of the season with a 56-26 win over Sloan-Hendrix in the Marmaduke Cancer Awareness Classic in Marmaduke. Emily Armstrong led Harrisburg with 20 points. The Lady Hornets got 23 points from Emily Armstrong and 22 points from Jessica Webb but it wasn't enough as Marmaduek posted a 64-61 win.
Harrisburg's Hornets moved to 2-0 on the young season with a 55-50 win over Bay this past Friday at Bay. Gatlin Greeno led Harrisburg with 13 points as Gavin Casebier and Dylan Mathis each had 11 points. Zach Biggers and Tommy Maloney each netted 10 points. Dustin Utley led Bay with 23 points as Taylor Layne finished with 17 points. Bay won the junior high game 43-32. Harrisubrg opened the season with an 82-38 win over NEACHE in Harrisburg. Maloney led the Hornets with 25 points and 10 rebounds. Geeno and Casebier added 15 and 10 points respectively. Tommy Malone scored 24 for Harrisburg as they moved to 3-0 with a 72-36 win over Hoxie in the Highland Classic this past Tuesday. Gavin Casebier added 10 points for the Hornets.
Marked Tree (6-5) had their football season come to end this past Friday as they lost 41-8 to Mountinburg in the opening round of the Class 2A state playoffs. The Indians' lone score came from A.J. Ellifrit as he fell on the ball in the end zone after a bad snap on a punt attempt. Jack Brown added the two-point conversion run. Paul Coleman led the team in rushing with 79 yards as Ellifrit chipped in 23 yards rushing. Jack Brown completed four of five passes for 23 yards with Kentarius Allen catching three passes for 23 yards. Braidin Hall, Coleman and Nick Andrews all recorded four tackles to lead the defense.
EPC (6-5) also had their season come to an end as their comeback fell just short as they lost to Foreman 33-30. Stats not made available after requests from the PCDT.
The Marked Tree Lady Indians (0-1) lost their season opener 55-46 to Manila this past Friday. CJ Barnes led Marked Tree with 16 points as Tullia Tull added 14 points. The Marked Tree Junior Lady Indians lost 41-29.