EPC cruises to season opening win
Thursday, November 17, 2016
EPC (1-0) had eleven player contribute points as the Warriors cruised to a 67-17 win over Kipp Blytheville Collegiate in high school boys basketball action this past Friday in Lepanto.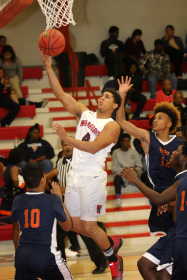 EPC came out hitting on all cylinders racing out to an 11-0 lead in the first two and half minutes of the game. Des Barnes got the scoring started with a lay up off the fast break. Jace Whitfield followed by hitting one of two free throws before Zay Reed reeled off the next six points with a conventional three-point play, a three-point basket from the right wind and a slam dunk off the break. EPC kept the pedal down as Whitfield scored off an offensive rebound, Isaiah Taylor scored in the paint, Whitfield added a bucket inside and Barnes hit a jumper in the lane to make it 19-0 Warriors with 4:36 left. Travis Joplin scored off the fast break, Whitfield and Taylor canned back to back three-pointers and Joplin got inside for another score to make the score 29-0 Warriors. Chanc Gray hit one of two free throws for EPC as Dee Lauderdale netted a three-ball and Dee Buchanan hit one of two free throws before Kipp drilled a three-pointer making the score 34-3. Buchanan hit a three-pointer from the left wing to finish the first quarter scoring and giving the Warriors a 37-3 lead.
Taylor opened the second quarter with a jumper in the lane for EPC followed by a J'Sebian Brown one-handed slam to make the score 41-3 Warriors. Kipp got two free throws to fall before Brown hit two of three free throws after being fouled on a three-point attempt to make the score 43-5 EPC. Play was halted for a few minutes as Reed cut hit his hand on the rim on a dunk attempt as he was fouled causing blood to get on the floor a player jersey. After all was cleaned from the floor and a jersey change, Barnes stepped in and hit the two free throws from the foul as Reed was getting medical attention to his hand to make the score 45-5 EPC. Brown got an easy basket off the fast break, Kipp hit two free throws and Brown added one of two free throws with 1:34 left to set the halftime score at 48-7 Warriors.
Full game article in November 17 edition of PCDT!