Massey talks JROTC program
Friday, November 18, 2016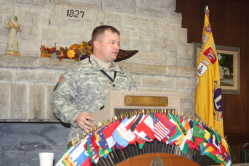 Major Jay Massey, instructor for Trumann High School's JROTC program, spoke to the Trumann Lions Club recently about the program.
Massey retired from active duty in the U.S. Army on Oct. 31 after over 21 years of service. He has a Bachelor's degree in Criminal Justice and is currently pursuing his Master's. He said he is also a product of the JROTC program.
Massey teaches ROTC five periods and does one Criminal Justice class. This is first year Trumann has offered a Criminal Justice class. He said they have a full class and are hoping to grow it in the years to come. Massey's assistant in teaching JROTC is Master Sergeant Tony Davis.
There are currently 80 students enrolled in THS's JROTC program, and Massey said they expect to surpass 100 in January. Massey said JROTC is about "motivating students to become better citizens." He said they help students become leaders and work with students from all different backgrounds, tailoring the program to fit them. And they have had a lot of success. Massey is approached by students every day about wanting to join the program.
Massey said a typical week of JROTC goes like this: lecture on Mondays, physical training on Tuesdays and Fridays, uniform inspection on Wednesdays, and drill and ceremonies on Thursdays. JROTC students are also involved in the community, and he hopes they can become more active. Massey said they are at home football games with the color guard and also work as parking detail support. They also marched in the homecoming parade. Two weeks ago, they were one of 26 teams to compete in an obstacle course competition and took home two first place trophies. In the spring, they plan to form a drill team and also hold a military ball. Massey said he is also looking into relocating the obstacle course closer to the high school for safety and convenience.
As for goals for the future of the program, Massey wants to expand and grow the program as well as instill ambition in his cadets. "We want to grow our program so large that we're out of room," Massey said.