Marked Tree Rotary gives dictionaries to students
Friday, November 18, 2016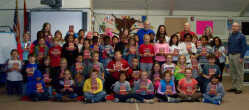 Marked Tree Rotary Club members made the rounds to several local schools last week to give out dictionaries to students, a project they have done for 12 years now.
The club visited students at Lepanto Elementary, Tyronza Elementary, and Marked Tree Elementary to hand out dictionaries to third and fourth graders. Usually, they give out dictionaries to every third grade class, but they missed last year's class and wanted to make that up this year.
Rotarian Bill Stanley talked to students about the Dictionary Project and other projects Rotary International has worked toward, such as eradicating polio. He encouraged students to write about how they will use the dictionaries and how they will help them. He mentioned that the club had heard from a girl in college who still has her Rotary dictionary and still uses it. And he emphasized that the dictionaries were meant to last a lifetime.