County completes bridge project
Friday, November 25, 2016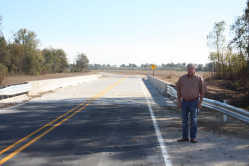 According to County Judge Bob Cantrell, a new bridge was just completed on Shaw Bridge Lane just north of Marked Tree.
Cantrell said the $1.3 million bridge cost the county between $32-36,000. The bridge was engineered by the state, which also oversaw its construction.
"They did a super job," Cantrell said. "The former county judge started it in 2010, but it was never followed through on." Cantrell said the state contacted him when he came into office as county judge and asked what he wanted to do on the bridge. At that time, the county had already invested $12,000 into it, and the state said it would cost the county around $200,000 in engineering costs if it wasn't completed, so Cantrell opted to move forward with the project and get it finished.
Cantrell said the county is finishing another bridge replacement near Weiner as well.