Stepping Stone Sanctuary expanding thanks to donations
Friday, November 25, 2016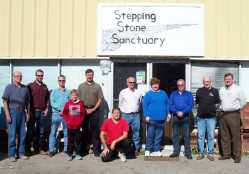 Thanks to generous donations from Jerry and Angie Sims and Rev. Jimmy and Patti Swinford, the Stepping Stone Sanctuary in Trumann will be able to expand. The $130,000 donation from the Sims and Swinford families will give the homeless shelter more room for food storage. The shelter opened earlier this year and has quickly run out of space.
According to Stepping Stone Sanctuary's director Jeff Weaver, the shelter is currently feeding around 1,800 people at lunchtime alone and is handing out 2-5,000 pounds of food a week. "We've run out of room for food storage," Weaver said. "Our existing units are at maximum capacity. We're actually having to turn down food right now because we don't have a place to store it."
Weaver said that because of the Sims and Swinford families' donations, the shelter would never have to turn down food again because they were out of storage space. Weaver said the shelter is purchasing the building adjacent to them behind Focus' building and will be adding onto it all the way to Ellis Avenue. This building will be used to add more storage space for food.
The building is being purchased from Jim Welch, who is also donating the land across the street from the shelter. Weaver said John Stuckey would be building a pole barn on this land, which will be used as a food distribution building. Weaver said this building will give them a safer place to distribute food since when they hand out food now, the road gets blocked with traffic and becomes hazardous.
"We're just blessed. The Lord has blessed us," Weaver said. "Because of this, there should never be anyone in Trumann who goes hungry."
Weaver said the shelter has helped many people get back on their feet. He said while people are staying at the shelter, he makes sure they stay persistent on their job search. "Now we have people calling from Jonesboro and Paragould saying: I hear you get people jobs. I tell people: I don't get you a job, you get yourself a job," Weaver said. "One way we're successful is we make our people go out and stay persistent." Weaver said the shelter tries to help people build their work ethic and character to give them a structure they may never have had.
"People know they can come here, that it's a safe place to eat and safe place for shelter," Weaver said.
"One thing this place gives people is hope," Patti Swinford said. "You walk in the door and get a glimpse of that hope."