Junior Lady Wildcats pick up road win
Wednesday, November 23, 2016
Trumann got double digit outputs from Kayla Spence and Caroline Morgan as the Junior Lady Wildcats posted a 43-21 win over Marked Tree this past Monday night in Marked Tree.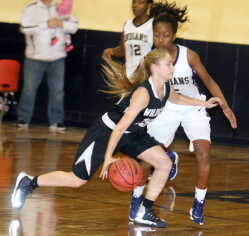 Spence opened the scoring with a jumper in the land followed by Heavenly Lofton hitting one of two free throws to give Trumann a 3-0 lead. Haley Mathis got inside for a Trumann score making it 5-0 with 2:36 left. Morgan canned a three-pointer before Emma Turner scored off an offensive rebound right before the buzzer giving the Junior Lady Wildcats a 10-0 lead after the first quarter.
Shira Hendrix got Marked Tree on the board with a jumper to start the second quarter making the score 10-2. Spence hit a jumper in the lane before the Junior Lady Indians got baskets from Taylor McCuiston and Makayla Marshall making the score 12-6 Trumann with 3:46 left. The Junior Lady Wildcats reeled off the next nine points as Spence and Turner both scored inside, Hannah McClaughlin hit one of two free throws and followed with a jumper in the lane and Spence connected on a jumper to make the score 21-6 Trumann. Alundra Rand canned a three-pointer for Marked Tree at the buzzer making the score 21-9 Junior Lady Wildcats at the half.
Full game article in November 24 edition of the PCDT on newsstands now!