Lady Wildcats down Marked Tree in non-conference clash
Wednesday, November 23, 2016
After a close first quarter, Trumann opened up a double digit lead by halftime on their way to a 47-34 win over Marked Tree in non-conference this past Monday in Marked Tree.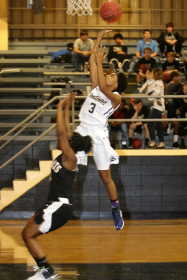 Tybra Crockett scored the first points of the night for Trumann as she drilled a three-pointer from the left wing to make it 3-0 Lady Wildcats. CJ Barnes got the Lady Indians on the board with a fast break lay up before Maddie Roach hit one of two free throws for Trumann followed by team mate Clementine Collins hitting two free throws to make it 6-2 Trumann. Tullia Tull was fouled while attempting a three-point shot at the buzzer and hit two of three free throws to make it 6-4 Trumann at the end of one.
Jayla Carter gave the Lady Indians the lead at 7-6 with a three-ball to start the second quarter only to see Trumann score the next 11 points to go up 17-7. Starlasia Simmons started the run with two free throws, Tay Smith hit a runner in the lane, Simmons connected on one of two free throws, Crockett canned another three-pointer and Olivia Greenwell hit three free throws after being fouled shooting a three-pointer. Taylor Hannah's three-ball stopped the Trumann run making the score 17-10 Lady Wildcats with 3:22 left. Lexi Jackson netted a three-pointer from the top of key, Simmons made two free throws and Collins scored off an offensive rebound to push Trumann's lead to 24-10. Tull hit one of two free throws with less than a minute left to make the score 24-11 Trumann at the half.
Pick up a copy on newsstands now of the November 24 edition of the PCDT for full game story.