Indians hang on for win over Trumann
Wednesday, November 23, 2016
Marked Tree (1-0) survived the Wildcats' fourth quarter comeback and won their season opener 43-40 over Trumann this past Monday in Marked Tree.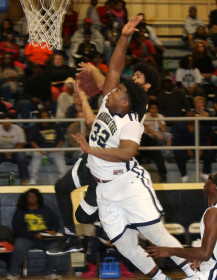 Nick Andrews converted an old-school three-point play to give Marked Tree the early 3-0 lead before Cody Roland scored off an offensive rebound for Trumann to make it 3-2. Ben Turner scored inside for the Wildcats to make it 4-3 Trumann only to see Markel Perry hit two free throws to make the score 5-4 Indians. Perry scored for Marked Tree to make it 7-4 with 2:40 as Roland hit a jumper to make it 7-6 with just over a minute left. The score was the same as the quarter ended.
Alex Moses hit one of two free throws for Trumann to tie the game at 7 early in the second quarter. Colby Malone scored inside for Marked Tree, Shy Anderson hit one of two free throws before Malone scored back to back baskets for the Indians making the score 14-7 Marked Tree. Kelon Booker canned a three-pointer for Trumann and Moses hit two free throws for the Wildcats to cut the lead to 14-12 with three minutes left. Marked Tree got a basket from Paul Coleman off an offensive rebound and Jack Brown drilled a three-ball for the Indians to make the score 19-12 with less than a minute left. Turner got a score in the paint for Trumann to make the score 19-14 at the half.
Full game article in the November 24 edition of the PCDT on newsstands now!