Junior Lady Wildcats fall short against Hoxie
Thursday, December 1, 2016
Trumann's game tying shot came up short as Hoxie held on for a 29-26 win over the Junior Lady Wildcat in basketball action this past Monday night in Trumann.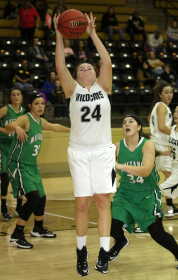 Hoxie opened the game with a three-pointer before Trumann got on the board with two free throws from Haley Mathis to make it 3-2 Junior Lady Mustangs. Hoxie scored inside as Caroline Morgan canned a three-ball for Trumann tying the game at 5. Hoxie made it 8-5 with a three-pointer as Kayla Spence answered with a jumper in the lane making it 8-7 Junior Lady Mustangs with 1:06 left. The score stayed the same as the quarter ended.
Morgan and Mathis both hit one of two free throws on back to back trips to the foul line giving Trumann a 9-8 lead. Morgan missed two free throws after a technical foul was issued on Hoxie's coach with 1:42 left. Hoxie tied the game with one of two free throws with 43 seconds left as the teams went to half with the score 9-9.
Full game story in the December 1 edition of the PCDT!