Trumann tumbles against Lady Mustangs
Thursday, December 1, 2016
Trumann found themselves down 8-0 less than two minutes into the game and never could catch up as Hoxie posted a 57-48 win over the Lady Wildcats this past Monday at Wildcat Gym.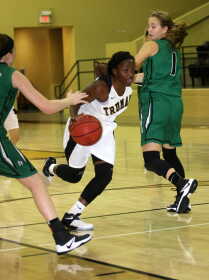 Hoxie opened the game with an 8-0 run before Starlasia Simmons drilled a three-pointer for Trumann to make it 8-3 Lady Mustangs with 5:56 left. Hoxie was good on a three-ball before Zaria McGuire hit one of two free throws and Simmons got a steal and lay up to make the score 11-6 Hoxie. Lexi Jackson hit two free throws for the Lady Wildcats as Hoxie answered with eight straight points giving the Lady Mustangs a 19-8 lead. Jackson hit a three-pointer for Trumann with just under two minutes left making it 19-11 Hoxie. Neither team scored the remainder of the quarter.
The Lady Mustangs pushed the lead to 24-11 early in the second quarter Trumann went on 9-0 run to make it 24-20. Tay Smith scored inside to start the run followed by one of two free throws from Tybra Crockett. McGuire scored inside, Smith scored inside and McGuire got inside for another score with 3:18 left. Hoxie hit a jumper to stop the Trumann run making it 26-20. Clementine Collins hit one of two free throws for the Lady Wildcats before Hoxie added a basket late to make the score 28-21 Lady Mustangs at the half.
Complete game article in the December 1 edition of the PCDT!