Several Christmas parades this week after rescheduling
Monday, December 5, 2016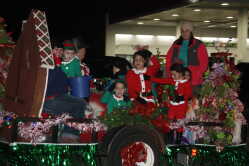 Due to rainy weather last Saturday, Marked Tree and Harrisburg's Christmas parades were rescheduled for this week, making for a total of four parades. Two parades are happening Thursday, and two are happening Saturday.
On Thursday, Dec. 8, Marked Tree and Trumann will be having their parades. Marked Tree's parade begins at 5:30 p.m. The grand marshal will be Rusty Holmes. Line-up begins at 5 p.m. on Hester Parker Drive by First Delta Bank. Parade organizers suggested parade participants come in the back way to Hester Parker Drive by turning down Riverside Drive by Vaughn Ford. The parade will end at the Marked Tree Fire Department, where kids will be able to get pictures with Santa Claus afterward. There will be a cash prize for best float. Trumann's parade will begin at 6 p.m. with the line-up beginning at the old Price Chopper parking lot on Highway 463. The parade will continue to Main Street, where it will turn south to end at the Community House. Chamber of Commerce President Ronnie Harrison will be grand marshal, and the theme of the parade will be "Duck the Halls.
On Saturday, Dec. 10, Harrisburg and Lepanto will have their parades. Harrisburg's parade will be at 2 p.m. with line-up in the Court Square. Sheriff Larry Mills will be grand marshal, and the theme is "Rocking Around the Christmas Tree." The parade will leave Court Square and end at the Harrisburg Fine Arts Building. Cash prizes will be awarded for best mini float (ten feet or shorter) and best full size float (ten feet or longer), and trophies will be given for the antique car category. After the parade, prizes and bonus bucks will be given away at the Fine Arts building.
Lepanto's parade will be that night at 6 p.m. with line-up beginning at the Painted House and the parade running down Greenwood Avenue. Kay Robertson will be grand marshal.