Junior Warriors take win over Marked Tree
Thursday, December 8, 2016
EPC built a double digit lead after three quarters of play before withstanding a fourth quarter fury from Marked Tree to post a 42-36 conference win in junior high basketball action this past Tuesday in Lepanto.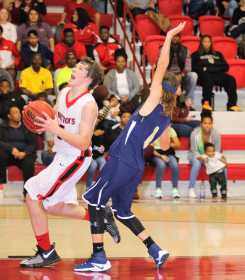 Jaylin Pearson gave EPC a 1-0 lead after hitting one of two free throws before B.J. Marshall hit one of two free throws for Marked Tree to tie the game a one. Jamario Crawford scored inside for the Junior Warriors before Eli McCrary nailed a three-pointer for the Junior Indians to make it 4-3 Marked Tree with 2:11 left. Pearson got a basket in the paint for EPC as Itavious Nesbitt answered for Marked Tree with a basket inside to make the core 6-5 Junior Indians. Preston Rains scored a layup off the fast break late in the quarter to give EPC a 7-6 lead after one.
Aayden Johnson hit two free throws for Marked Tree to start the second quarter only to see Austin Baker and Rains score back to back baskets to make the score 11-8 Junior Warriors. Michael Williams hit two free throws, Baker hit a jumper and Rains scored off the fast break to push EPC's lead to 17-8 with 2:20 left. McCrary hit one of two free throws for Marked Tree as Rains scored inside for EPC to make the score 19-9 Junior Warriors. Nesbitt hit three of four free throws on back to back trips to the foul line only to see Gavin Constant add two free throws for EPC to make the score 21-12 EPC at the half.
Pick up a copy of the December 8 edition of the PCDT for full game story!