EPC holds on to beat rival Marked Tree
Thursday, December 8, 2016
EPC withstood an early fourth quarter charge from Marked Tree and then hit enough free throws down the stretch to claim a 72-63 conference win over the Indians this past Tuesday in Lepanto.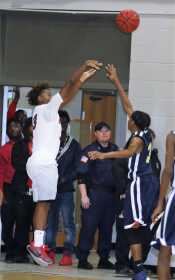 J'Sebian Brown got inside for EPC basket to open the scoring as Marked Tree responded with Tray Brown jumper and a three-pointer from Colby Malone making the score 5-2 Indians. Xzavier Reed hit two free throws for the Warriors before Markel Perry-Washington threw down a one-handed slam for Marked Tree to make the score 7-4 Indians with 3:46 left. Travis Joplin put back an offensive rebound, Jase Whitfield hit a jumper in the lane and Reed converted an old-school three-point play as the Warriors took an 11-7 lead only to see Marked Tree get a jumper in the lane from Malone and two free throws from Perry-Washington to tie the game at 11 at the end of one.
J'Sebian Brown opened the second quarter with a three-ball from the right wing for EPC only to see Paul Coleman convert a conventional three-point play for Marked Tree to make it 14-14. Tray Brown drained a three-pointer from the right corner for the Indians before Reed scored inside for EPC to make the score 17-16 Indians. Coleman scored inside for Marked Tree, J'Sebian Brown hit a jumper in the lane for the Warriors, Perry-Washington hit one of two free throws for the Indians and J'Sebian Brown canned a three-ball for EPC making the score 21-20 Warriors with 4:06 left. Malone and Tray Brown connected on back to back three-pointers for the Indians to give Marked Tree a 26-21 lead before J'Sebian Brown answered with a jumper in the lane for EPC to make the score 26-23. Coleman hit a jumper in the lane for EPC as J'Sebian Brown scored inside and Joplin scored off the fast break to make the score 28-27 Marked Tree. Nick Andrews scored in the paint for the Indians and then sank two free throws to give the Indians a 32-27 lead with less than a minute left. Reed put back an offensive board a few seconds later to make the score 32-29 Marked Tree at the half.
Full game coverage in December 8 edition of the PCDT!