Molly Grojean
Wednesday, December 14, 2016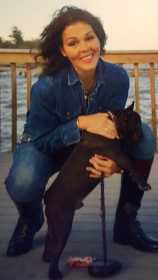 ATASCOCITA, TEXAS -- Ms. Molly Elizabeth Grojean departed this life Friday, December 9, 2016, in Houston, Texas at the age of 45. Ms. Grojean was born December 26, 1970 in West Memphis, Ark. Ms. Grojean was an executive assistant at OCTG LLC. and of the Methodist faith.
Ms. Grojean is survived by her parents, Kelly Grojean, Sr., Carla Jo Jennings and step-father Johnny Jennings; two sisters, Miranda Huffman and Melissa Jennings; three brothers, Kelly (Mamie) Grojean, Jr., John Jennings, Jr. and Jordan Jennings and her grandmother, Barbara Joann Walker, as well as many wonderful aunts, uncles and cousins.
Ms. Grojean was preceded in death by her grandmother, Nettie Grojean and grandfather, Ralph Walker.
Ms. Grojean was a loving a caring person who will be deeply missed by all who knew her. She was a loving daughter to her parents, a caring sister and a wonderful aunt of little Grace. She will be especially missed by her family.
A memorial service will be held Monday, December 19 from 6-8 p.m. at the First Methodist Church in Marked Tree with Ron and Janice Williams officiating.