Lady Wildcats drop conference game to Westside
Thursday, December 15, 2016
Trumann held a lead early in the game before Westside's 11-0 run gave the Lady Warriors the lead they would never give up as they posted a 56-41 win last Thursday at Wildcat Gym.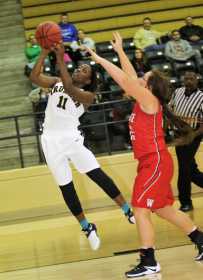 Westside hit one of two free throws to take the early 1-0 lead before Daly Taylor scored off an offensive rebound for Trumann followed by one of two free throws from Starlasia Simmons to give the Lady Wildcats a 3-1 lead with 5:02 left. The Lady Warriors scored the next 11 points to go up 12-3 as Clementine Collins scored inside for Trumann to stop the run making it 12-5 Westside. The Lady Warriors added a three-pointer and two free throws to make it 17-5 Westside at the end on one.
The Lady Warriors scored back to back baskets to open the second quarter to push their lead to 21-5 before Zaria McGuire hit a jumper in the lane for Trumann to make it 21-7. Westside scored inside, Lexi Jackson canned a three-pointer for Trumann, the Lady Warriors connected on a three-ball and Jackson canned another three-pointer for the Lady Wildcats to make the score 26-13 Westside with 3:26 left. Simmons scored inside for Trumann only to see the Lady Warriors end the quarter scoring the last five points to make it 31-15 Westside at the half.
Full game story in December 15 edition of the PCDT!