Junior Warriors avenge early season loss to KBC
Thursday, December 15, 2016
EPC raced out to an 8-0 lead over KIPP Blytheville Collegiate and never looked back as the Junior Warriors avenged a two point loss to last time the two teams met with a 50-17 win.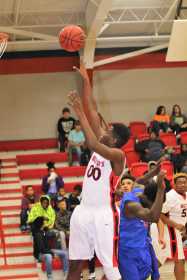 Jamario Crawford scored back to back baskets for EPC to start the game as Jaylin Pearson got a basket off an offensive rebound and Preston Rains scored inside for the Junior Warriors to make the score 8-0 EPC with 3:12 left. KIPP got on the board with a basket inside as Crawford scored inside and Michael Williams hit one of two free throws to push the Junior Warriors' lead to 11-2. KBC scored on a put back only to see Crawford, Rains and Gavin Constant score consecutive baskets before KIPP hit a three-pointer to make the score 17-7 at the end of one.
EPC's Rains got back to back steals and layups followed by a conventional three-point play from Crawford before KIPP converted an old-school three-point play to make it 24-10 Junior Warriors with 2:31 left. Pearson scored inside for the Junior Warriors and Rains added back to back baskets as KIPP got one of two free throws making the score 30-11 at the half.
Complete game article in December 15 edition of the PCDT!