Lady Warriors cruise past KIPP Blytheville
Thursday, December 15, 2016
The EPC Lady Warriors jumped out to a 26-0 lead over an outmanned KIPP Blytheville team on their way to a 69-13 win this past Friday in Lepanto.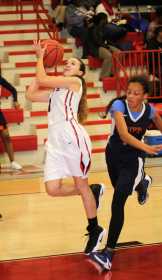 Tileyah Ward opened the game with a three-pointer for EPC making it 3-0 as Bre Ward scored off the fast break for the Lady Warriors as Tileyah Ward hit a running jumper to make the score 7-0 Lady Warriors. Jaleigha Garrett made back to back baskets before Bre Ward scored the next eight points making the score 19-0 EPC with 1:50 left. Madison Wiggins canned a three-pointer from the left corner, Bre Ward got a steal and layup and Garrett scored inside to make the score 26-0 EPC after one.
Kurstin Bryan made a layup for EPC to open the second quarter scoring before KIPP finally got on the board with a jumper to make it 28-2 Lady Warriors. EPC got an offensive rebound, one of two free throws and a jumper from Becca Bishop to make the score 33-2 EPC with 4:25 left. Bryan hit two free throws for the Lady Warriors before KIPP hit one of two free throws and added a jumper to make the score 35-7 EPC at the half.
Pick up a copy of the December 15 PCDT for full game story!