Warriors pick up conference win over KIPP
Thursday, December 15, 2016
EPC got points from all 14 players as the Warriors downed Kipp Blytehville Collegiate (KBC) 77-43 in conference action this past Friday in Lepanto.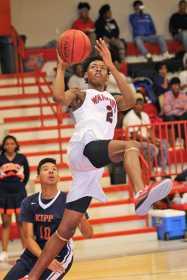 The Warriors jumped out early as Travis Joplin converted an old-school three-point play to start the game as Xzavier Reed followed with two free throws and a jumper to make it 7-0 EPC. Isaiah Taylor netted a jumper, J'Sebian Brown scored inside and Joplin added one of two free throws to make the score 12-0 Warriors. Brown scored on back to back fast break layups and added a free throw after being fouled on the second layup before KIPP scored back to back baskets to make it 19-4 with 3:45 left. Chanc Gray scored inside and Dee Lauderdale scored a layup off the break as KBC canned a three-ball to make it 23-7 Warriors. Gray converted a conventional three-point play and Reed went coast to coast for a layup for EPC as KIPP hit one of two free throws to make it 28-8 EPC. The Warriors got two free throws from Reed, an inside basket from Gray and an inside basket from Dee Buchanan right before the buzzer to make the score 34-8 EPC after one.
KBC opened the second quarter with a steal and layup only to see TySean Garrett get a steal and layup for EPC followed by Buchanan hitting two of four free throws on back to back trips to line for the Warriors to make it 38-10 EPC. KBC connected on a three-pointer, Rochad Washington and Jay Gilmore scored back to back baskets for EPC and KIPP added another three-pointer making it 42-16 with 1:35 left before the half. KBC hit a a jumper in the lane with less than a minute left before Peyton Phillips scored down low for the Warriors right before the buzzer to give EPC a 44-18 lead.
Complete game story in December 15 edition of the PCDT!