TPD Chief Henson graduates from FBI National Academy
Friday, December 23, 2016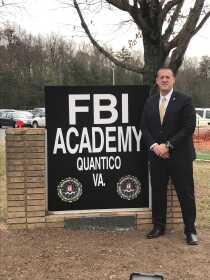 Trumann Police Chief Chad Henson was among 222 law enforcement officers who graduated from the FBI National Academy Program on Dec. 16.
The FBI National Academy is a professional course of study for U.S. and international law enforcement managers nominated by their agency heads because of demonstrated leadership qualities. The 11-week program provides coursework in intelligence theory, terrorism, management science, law, behavioral science, law enforcement communication, and forensic science. Study takes place at the FBI campus in Quantico, Va.
The FBI field office in Jonesboro nominated Henson for the academy, and he said he was honored by the opportunity. "Less than one percent of all law enforcement are accepted," Henson said. "It's a huge honor for the individual, but it's just as huge for the community." Henson said everyone at the academy is given a patch branded with their community, so that patch is seen everywhere they go on the eastern seaboard while at the academy.
Henson said some of the major things the academy involved were leadership, community messaging, and teamwork. Henson was honored being the first Trumann officer to attend the academy and hoped many more officers from Trumann would be able to attend in the future. "It's not an easy academy. I had 15-page papers and constant schoolwork," Henson said. "It was hard, but I truly, truly cannot wait until the next Trumann officer is nominated and the next. Every officer goes through one academy. What an honor to go through two. But it will be ten times greater when the second, third, and fourth Trumann officers go."
Henson said one of the most important things he learned was community relations. "This is a time in my profession where people are pointing fingers at law enforcement to change," Henson said. "It's on law enforcement to either listen or dismiss them. I chose to listen. This academy instilled in me to listen to the community's needs and wants."
This most recent class marks the academy's 266th session. A total of 49,686 have graduated from the academy since it began in 1935. The academy was created in response to a 1930 study by the Wickersham Commission that recommended the standardization and professionalization of law enforcement departments across the U.S. through centralized training. With support from the International Association of Chiefs of Police and with the authority of Congress and the Department of Justice, the FBI Police Training School was born. Courses at that time included scientific aids in crime detection, preparation of reports, criminal investigation techniques, administration, and organization.