Junior Yellowjakets get win over Marked Tree
Friday, December 23, 2016
Bay (11-4) jumped out to big lead after the first quarter and cruised to a 63-17 win over the Junior Indians this past Friday in junior high basketball action in Bay.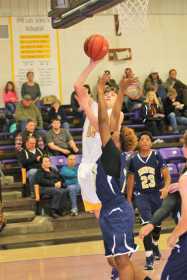 Braison Morris opened the scoring for Bay with a three-pointer before BJ Marshall answered for Marked Tree with a score inside to make it 3-2. The Junior Yellowjackets reeled off the next 20 points to take a 23-2 lead after one. Morris canned another three-ball, Ian Kiech had back to back steals and lay-ups, Aaron Jolly scored off the fast break and Morris added a jumper and another three-pointer with 1:43 left. Kiech scored off the fast break with Tyler Hartgen and Jolly adding baskets down low.
Bay opened the second quarter with the first eight points as Paiton Hartley opened the scoring with a three-pointer before Kiech scored off the fast break and added a conventional three-point play before Marshall put back an offensive rebound for the Junior Indians to make the score 31-4 Bay. Eli McCrary canned a three-ball for Marked Tree to make the score 31-7 only to see Kevin Ostermiller and Hartley make back to back three-pointers for Bay to make it 37-10 Junior 'Jackets. Tre Jones hit a jumper in the lane for Marked Tree as Colby Belcher and Jolly hit back to back jumper for Bay to make the score 41-9 Junior Yellowjackets at the half.
Full story in December 22 edition of the PCDT!