Junior Lady Yellowjackets get win over Marked Tree
Friday, December 23, 2016
Olivia Ferguson scored 24 point to lead Bay past Marked Tree last Thursday night in junior high basketball action in Bay.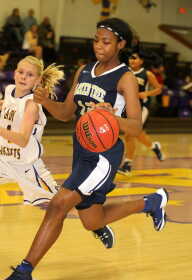 Bailee Kirby got Bay on the board first with a three-pointer from the right corner to make it 3-0 as Marked Tree's Shira Hendrix went coast to coast for a lay up to make it 3-2 Junior Lady 'Jackets. Kirby hit a running jumper in for Bay only to see Hendrix can a three-pointer for the Lady Indians to make the score 5-5 with 3:17 left. Ferguson converted an old-school three-point play and followed by hitting one of two free throws to make it 9-5 Bay. Kirby scored in the paint and Destiny Bogard hit one of two free throws as Bay closed with a 7-0 run to take a 12-5 lead after one.
Ferguson got a stick back basket and two free throws as Bogard scored off the fast break as Bay pushed their lead to 18-5. Sydney Rotscheid scored off an offensive rebound for Marked Tree as Ferguson scored inside for the Junior Lady Yellowjackets to make the score 20-7 Bay with 1:47 left. Rotscheid stuck back another offensive rebound for the Junior Lady Indians as Hendrix followed with a jumper for Marked Tree to make the score 20-11 Bay at the half.
Full game article in December 22 edition of PCDT!