Lady Warriors fall in NEA Tournament opener
Friday, December 23, 2016
By ANTHONY COSSEY, DT Sports Staff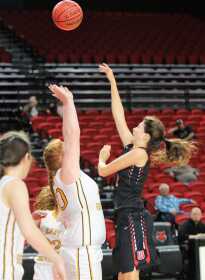 EPC had to play catch up all game long getting to within one point in the fourth quarter before falling to Sloan-Hendrix 51-47 in girls' Division I NEA Invitational Tournament play this past Saturday at the Convocation Center in Jonesboro.
The teams traded scores for the first three minutes with Madison Wiggins hitting a jumper for EPC after a Sloan-Hendrix basket and Becca Bishop hitting one of two free throws after a Lady Greyhound score to make the score 4-3 Sloan-Hendrix. The Lady Greyhounds scored the next five points before Bishop hit one of two free throws again to make it 9-4 Sloan-Hendrix with 3:21 left. Sloan-Hendrix scored inside, Wiggins hit one of two free throws for the Lady Warriors, the Lady Greyhounds canned a three-pointer and Wiggins drilled a three-ball from the top of key for EPC to make the score 14-8 Sloan-Hendrix after one.
The Lady Greyhounds opened the second quarter with a score inside as Bre Ward stuck back an offensive rebound for EPC to make the score 16-10 Sloan-Hendrix. A conventional three-point play from Sloan-Hendrix, a stick back from Wiggins and back to back baskets from the Lady Greyhounds made the score 22-12 Sloan-Hendrix with 4:07 left. Wiggins and Tileyah Ward scored back to back baskets for the Lady Warriors, Sloan-Hendrix got a basket down low, Bre Ward hit two free throws for EPC as the Lady Greyhounds hit one of two free throws to make the score 25-18 Sloan-Hendrix. Back to back baskets from Sloan-Hendrix and a three-pointer from Jaleigha Garret made the score 29-21 Lady Greyhounds at the half.
Full game story in December 22 edition of the PCDT!