Wildcats ousted in NEA Invitational Tournament opener
Friday, December 23, 2016
Trumann (3-6) couldn't find a way to stop the inside or outside game of the Westside Warriors as the Wildcats lost 78-47 in the opening round of the boys' Division II NEA Invitational Tournament being held in Jonesboro.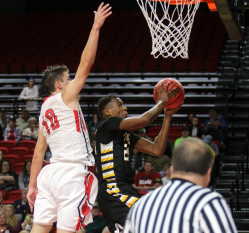 Trumann jumped out to a 4-0 lead on back to back baskets from MJ Barnes before Westside got a score inside to make it 4-2. Alex Moses hit one of two free throws for Trumann as the Warriors scored down low making it 5-4 Trumann. Ben Turner canned a three-ball for the Wildcats only to see Westside score the next seven points to take an 11-8 lead with 2:56 left. Turner hit a jumper in the lane for Trumann before Westside made two free throws before drilling a three-pointer to make the score 16-10 Westside after one.
Kelon Booker netted a three-pointer for Trumann to start the second quarter as Westside answered with a stick back basket to make the score 18-13 Warriors. Cody Roland scored inside for the Wildcats before Westside scored the next eight points pushing their lead to 26-15. Aaron Hamilton drained a three-pointer for Trumann as Roland followed with a fast break lay-up to make the score 26-20 Warriors with 3:38 left. Westside closed the quarter with a 12-0 run making the score 38-20 Warriors at the half.
Grab a copy of the December 22 edition of the PCDT for full game article!