Hornets torched in NEA Invitational opener
Friday, December 23, 2016
Harrisburg (6-7) could find no answer for a red hot Valley View team as the Blazers inside and outside game was clicking as the Hornets fell 70-48 in boys' Division II action this past Monday at the Convocation Center.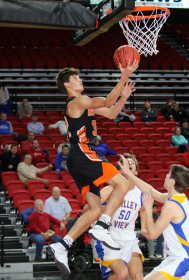 Gavin Casebier hit one of two free throws and scored inside around three Valley View free throws to make it 3-3 early in the game. The Blazers score off the break as Zach Biggers answered with a three-pointer to give Harrisburg a 6-5 lead. Valley View scored the next two baskets as Casebier hit a baseline jumper for the Hornets making the score 9-7 Blazers with 2:59 left. Valley View ended the quarter on a 9-2 run as Casebier's reverse lay-up were the only points for Harrisburg as the Blazers took an 18-10 lead after one.
Valley View opened the second quarter with a three-ball and slam dunk before Casebier scored inside for Harrisburg to make the score 25-12 Blazers. Valley View scored the next 13 points before Greeno stopped the run with one of two free throws for Harrisburg making the score 36-13 with 2:16 left in the half. The Blazer hit one of two free throws and added a basket down low to push their lead to 39-13 at the half.
Complete game story in December 22 PCDT on newsstands now!