Lady Indians fall to BIC in tournament opener
Friday, December 23, 2016
Marked Tree (4-9) let BIC go on an 18-0 run in the third quarter blowing open a close game as the Lady Indians fell 61-45 to the Lady Mustangs in the girls' Division I bracket at the NEA Invitational Tournament this past Tuesday in Jonesboro.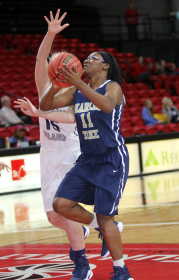 BIC got on the board first with a basket inside as CJ Barnes hit one of two free throws for Marked Tree to make it 2-1 Lady Mustangs. BIC got a three-pointer before the Lady Indians got consecutive baskets from Tullia Tull, CJ Barnes and Jayla Carter to make the score 7-5 Marked Tree with 3:36 left. The Lady Mustangs tied it at 7 with a jumper in the lane as Carter got a steal and lay-up to the Lady Indians up 9-7. BIC hit two free throws to tie game at 9-9 only to see Brandice Nesby hit one of two free throws for Marked Tree giving them a 10-9 lead after the first quarter.
Carter's steal and lay-up for Marked Tree got the second quarter scoring started as BIC converted a conventional three-point play to make the score 12-12. Carter scored inside for the Lady Indians before BIC hit a jumper before drilling a three-pointer to take a 17-14 lead with 4:41 left. Tull hit two free throws for the Lady Indians and added a basket inside to make the score 18-17 Marked Tree. The Lady Mustangs tied the game at 18 with one of two free throws before Marked Tree got a baseline jumper form Nesby and a three-pointer from Carter to make the score 23-18 Lady Indians. BIC hit back to back baskets and added a three-ball to take a 25-23 lead at the half.
Pick up a copy of the December 22 PCDT for full game article!