Lady Hornets roll to win over Manila in NEA opener
Friday, December 23, 2016
Harrisburg (7-5) jumped out to a 12-2 lead over the Lady Lions and never looked back as they rolled to a 51-19 win in the opening round of the girls' Division II bracket of the NEA Invitational Tournament being held in Jonesboro.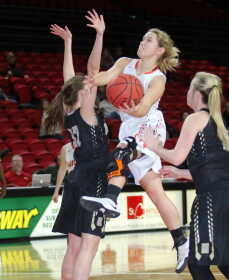 Emily Armstrong got Harrisburg on the board first with a lay-up off the break before Manila answered with a jumper to make it 2-2. The Lady Hornets scored the next points as Cassie Armstrong hit two free throws, Keely Curtis connected on a jumper and Cassie Armstrong added a basket inside. Jessica Webb made one of two free throws and Emily Armstrong canned a three-pointer to make it 12-2 after one.
Webb converted an old-school three-point play to make it 15-2 as the Lady Lions had a stick back basket to make it 15-4 Lady Hornets. Curtis hit a jumper in the lane and Cassie Armstrong scored off the fast break as Harrisburg pushed their lead to 19-4 with 3:34 left. The Lady Lions scored down low before Harrisburg got a three-ball from Cassie Armstrong and a jumper and three-pointer form Curtis to make the score 27-6 Harrisburg at the half.
Complete game article in December 22 PCDT on newsstands now!