Lady Wildcats down Rivercrest to advance at NEA Invitational
Friday, December 23, 2016
Trumann (4-6) led at the end of each quarter, building their each time as they took 48-31 win over Rivercrest in the Division II girls' bracket of NEA Invitational Tournament at the Convocation Center in Jonesboro.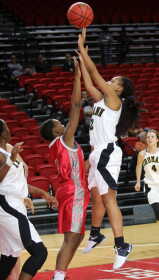 The Lady Colts got on the board first with a basket inside as Star Simmons answered for Trumann with a basket inside to make the score 2-2. Rivercrest scored the next two baskets to take a 6-2 lead before the Lady Wildcats reeled off the next eight points taking a 10-6 after one. Simmons hit a jumper in the lane followed by one of two free throws, Olivia Greenwell netted a three-pointer and Zaria McGuire hit a jumper in the lane for Trumann.
The teams traded baskets for the first half of the second quarter as McGuire hit two free throws, Tay Smith scored inside and Clementine Collins made two free throws all following a Rivercrest basket to make the score 16-12 Trumann with 3:29 left. McGuire hit a jumper in the lane for the Lady Wildcats as the Lady Colts made back to back baskets to cut the lead to 18-16 Trumann. McGuire went coast to coast for a lay-up for Trumann, Rivercrest hit one of two free throws and Lexi Jackson scored inside for the Lady Wildcats to make the score 22-17 Trumann at the half.
Full game story in December 22 edition of the PCDT!