Bay advances at NEA with win over Armorel
Friday, December 23, 2016
Bay (12-8) built a double digit lead over Armorel by halftime before going on to post a 58-40 win over the Tigers in an opening round game in the boys' Division I bracket of the NEA Invitational Tournament being played in Jonesboro.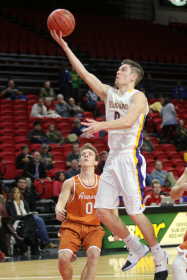 Bay opened the game with a 9-0 run as Dustin Utley scored inside, Caleb Hartgen converted an old-school three-point play and Tyler Harrell and Utley both had easy lay-ups off the fast break. Armorel got on the board with a steal and lay-up only to see Utley and Nolan Smith hit back to back three-pointers for the Yellowjackets to make the score 15-2 Bay with 3:58 left. The Tigers hit one of two free throws and netted a three-ball to make it 15-6 as Taylor Layne hit a jumper for Bay to make it 17-6 'Jackets. Armorel hit a three-pointer, Utley scored inside for Bay and the Tigers got a stick back basket to make the score 19-11 Bay after one.
The Tigers opened the second quarter with a basket down low as Bay got back to back baskets from Layne and Utley making the score 23-13 Yellowjackets. Armorel hit a jumper, Harrell canned a three-pointer as the Tigers added a conventional three-point play to make the score 26-18 Bay with 2:08 left in the half. Slade Grove put back an offensive rebound for Bay, Armorel scored down low before Bay got a jumper in the lane from Grove and a three-pointer form Smith to make the score 33-20 Bay at the half.
Full game story in December 22 edition of the PCDT!