Marked Tree loses to Bay in NEA Invitational
Thursday, December 29, 2016
In a close game from start to finish, Bay held on to beat Marked Tree 47-41 last Wednesday in quarter-final action in the boys' Division I bracket of the NEA Invitational Tournament being played at the Convocation Center.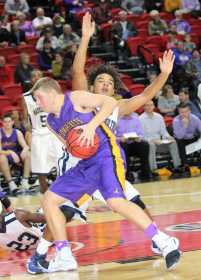 Marked Tree jumped out to the early lead as Markel Perry-Washington scored inside as Nick Andrews had a stick back basket making it 4-0 Indians. Taylor Layne got Bay on the board with a basket down low to make the score 4-2 Marked Tree with 3:20 left. Tray Brown netted a three-ball from the left wing for Marked Tree before Slade Grove scored inside and Dustin Utley added two free throws to make the score 7-6 Marked Tree after one.
Caleb Hartgen and Nolan Smith scored back to back baskets for Bay to start the second quarter giving the Yellowjackets a 10-7 lead. Colby Malone scored off the break for the Indians, Hartgen got inside or another score for Bay, Malone canned a three-pointer for Marked Tree as Dustin Utley scored in the paint for Bay to make the score 14-12 Bay. Dax Gibson hit one of two free throws for Bay as Jack Brown got a steal and lay-up for Marked Tree making the score 15-14 Bay with 2:12 left in the half. Utley canned a three-pointer from the left corner for Bay followed by a fast break lay-up from Layne to make it 20-14 before Jack Brown hit a baseline jumper for Marked Tree making the score 20-16 Bay at the half.
Complete game story in December 29 edition of PCDT!