Fourth quarter comeback sends Bay to NEA title
Thursday, December 29, 2016
Bay (15-8) outscored EPC (11-4) 17-8 in the fourth quarter to take a 49-45 in the championship game of the Division I bracket of the NEA Invitational Tournament this past Tuesday in Jonesboro.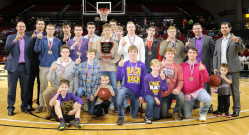 Dustin Utley got Bay on the board first with a basket inside as Jase Whitfield hit one of two free throws for EPC before adding a basket down low to make the score 3-2 EPC. Xzavier Reed put the Warriors up 5-2 with a basket inside only to see Bay get a jumper from Taylor Layne followed by a coast to coast lay-up and a three-pointer from Utley to make the score 9-5 Yellowjackets with 3:08 left. Reed scored back to back buckets for EPC to tie the game at 9 before Layne drilled a three-pointer for Bay to make it 12-11 'Jackets. Reed added a jumper for EPC with 33 seconds left to make the score 12-11 Yellowjackets after one.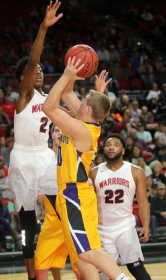 J'Sebian Brown scored off the break for EPC to open the second quarter as Nolan Smith hit a jumper for Bay to make the score 14-13 'Jackets. Reed converted an old-school three-point play for EPC, Smith stuck back an offensive rebound for Bay, Travis Joplin got an easy basket off the break for the Warriors before Smith hit two free throws for they Yellowjackets making the score 18-18 with 4:02 left. EPC got three consecutive baskets for EPC to make the score 24-18 Warriors as Slade Grove hit a jumper in the lane for Bay to make the score 24-20 EPC. Chanc Gray scored inside for the Warriors before Utley converted a conventional three-point play for the Yellowjackets to make the score 26-23 EPC at the half.
Compete game article in December 29 edition of the PCDT!