Imogene Stacy Qualls
Tuesday, January 3, 2017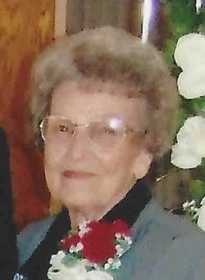 TRUMANN - Mrs. Imogene Stacy Qualls 85, of Trumann departed this life on Friday, December 30, 2016 at St. Bernards Medical Center in Jonesboro. She was born November 4, 1931 in Jonesboro and had lived most of her lifetime in Trumann. She was a housewife, member of the Eastern Star and of the Baptist faith. She was preceded in death by one daughter, Patty Stacy, two sisters, one brother and her parents, Plez and Veronia B. Sullins Taylor.
She is survived by one daughter, Carolyn Moon of Trumann; one son, Donald and wife Mary Stacy of Smithville, Ark.; six grandchildren, Stacy Bailey, Roger Moon, Jr., Shawn Stacy, Nathan Stacy, Caleb Stacy and Mark Wayne Woolbright and five great-grandchildren
Funeral services will be Wednesday morning at 11:00 a.m. in the chapel of Thompson Funeral Home with Rev. Kenneth Doke officiating. Burial will follow in the Jonesboro Memorial Park Cemetery in Jonesboro, Ark.
Pallbearers will be Shawn Stacy, Roger Haynes, Roger Moon, Sr., Roger Moon, Jr., Jay Wesley Nance and Tyler Bailey. Honorary pallbearer will be Joe Underwood.
Visitation will be Wednesday from 10:00 a.m. until 11:00 a.m. at Thompson Funeral Home in Trumann.
An online guest book can be signed at www.thompsonfuneralhome.net