Melba Wood
Tuesday, January 3, 2017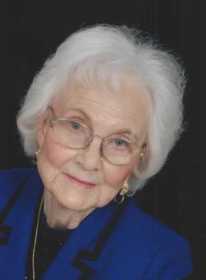 TRUMANN - Melba Laverne Rinehart Wood peacefully passed away on December 31, 2016 at the age of 93. She was surrounded by her loving family, in the comfort of her home. She was born December 27, 1923 to Reuben Lee Rinehart and Ruby Beatrice Wilkerson Rinehart in Hickory Flat, Miss. Mrs. Wood was a 1942 high school graduate and a 1943 graduate of the Business School of Commerce in Memphis. It was in Memphis where she met Joe Wood, a young merchant marine lieutenant whom she married in February 1945. When Joe came home from the service, they made their home in Earle, Ark., where they both worked at a local Ford dealership. In October 1958, they came to Trumann to operate their own Ford dealership -- Wood Ford Sales, Inc.
Melba worked with Joe every day until his passing in August 1995. She continued to work in the dealership and oversee business operations until it sold in October 2015. Her knowledge and dedication in the Ford business was evident by being honored for 50 years with Gold Status in the Ford Professional Accountants Society for Excellence in Business Practices.
Melba was an excellent cook and hostess. She enjoyed entertaining her friends in her home and playing bridge. She also enjoyed gardening and reading. She had a passion for caring for all animals. She truly loved her pets and went to great lengths to see that they were well-cared for. Melba is survived by her son, Barry and his wife, Susie, and her three granddaughters, Allison (Brad) Moon of Trumann, Mandy (Matthew) McEwen of Little Rock, and Joy Wood of Little Rock; and her five great-grandchildren, Dylan Moon of Jonesboro, Seth Moon of Trumann, Peyton McEwen of Fayetteville, Sydney McEwen of Little Rock, and Brayden Leigh Burgess of Ash Flat. Also surviving are her two sisters-in-law, Marjorie Ivers of Starkville, Miss. and Ginger Holloway of Nashville, Tenn.; and one brother-in-law, Charles (Marva Ann) Wood of Fayetteville and several nieces and nephews.
Funeral services will be on Tuesday, January 3 at 6pm at First Baptist Church 1301 Hwy 69 in Trumann with Rev. John Maley officiating. Visitation will be before the service from 5pm to 6p.m. Burial will be private at Jonesboro Memorial Park Cemetery under the direction of Thompson Funeral Home of Trumann.
Serving as honorary pallbearers are Ben Hyneman, Hal Hyneman, Rick Gillette, Matt Moon, Paul McAnnally, John Stuckey, Wayne Gairhan, Jerry McKinney, Dr. Charles Wood, Jr., Terry Joe Wood, Danny Gaither, Dr. Rol Luplow, Mark Luplow, Marty Luplow, George Wood, Dr. Lee Tyner and Terry Wood.
A very special thank you goes to her devoted caregivers: Billie, Claudette, Jenny, Mary, Tina, and Vida with Home Health Hospice.
In lieu of flowers, lasting memorials may be made to First Baptist Church, P.O. Box 575 in Trumann, where Melba was a member for more than 50 years or to the NEA Humane Society, 6111 E. Highland Drive in Jonesboro.
An online guest book can be signed at www.thompsonfuneralhome.net