Junior Lady Wildcats get win over Harrisburg
Sunday, January 8, 2017
Trumann jumped out a 7-0 lead and never looked back at they took a 37-14 win over Harrisburg this past Monday at Wildcat Gym.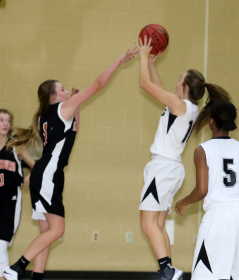 The Junior Lady Wildcats got an inside basket from Haley Mathis, a three-pointer from Caroline Morgan and a stick back basket from Kayla Spence to take a 7-0 lead over Harrisburg with 2:59 left in the opening quarter. Kayleigh Robinson hit one of two free throws to get the Junior Lady Hornets on the board making the score 7-1 Trumann. Mathis hit a jumper in the lane, Lessie Dowty hit one of two free throws for Harrisburg, Hannah McClaughlin netted a three-pointer for the Junior Lady Wildcats as Kelsey Dixon hit a jumper for the Junior Lady Hornets to make the score 12-4 Trumann. Emma Turner hit one of two free throws for the Junior Lady Wildcats as Morgan hit a baseline jumper to give Trumann a 15-4 lead at the end of one.
Turner and Mycha Wilson scored back to back baskets for Trumann early in the second quarter as Dixon had a fast break lay-up for Harrisburg to make the score 19-6 Junior Lady Wildcats with 3:20 left. Mathis got inside for a Trumann basket as Spence put back an offensive rebound with just under a minute left making the score 23-6 Junior Lady Wildcats at the half.
Full story in January 5 edition of the PCDT!