Lady Wildcats hold on to defeat Harrisburg
Sunday, January 8, 2017
Olivia Greenwell's four-point play with 37 seconds left gave Trumann (6-8) the lead as the Lady Wildcats held on for a 46-45 win over Harrisburg (8-7) in senior high girls' basketball in Trumann.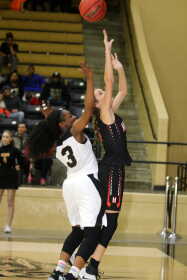 Star Simmons's reverse lay-up gave Trumann their first points before Abby Edwards hit a running jumper in the lane for Harrisburg to make the score 2-2. Lexi Jackson drilled a three-pointer from the left corner for Trumann as Zaria McGuire scored inside for the Lady Wildcats with 2:42 left to make it 7-2 Trumann and the score stayed the same as the first quarter came to a close.
Simmons scored inside before McGuire scored back to back baskets to push Trumann's lead to 13-2 early in the second quarter. Emily Armstrong netted a three-pointer for Harrisburg and followed with a fast break lay-up off an Abby Edwards steal to make it 13-7 Lady Wildcats. Simmons was good on a jumper for Trumann as Cassie Armstrong hit a jumper for the Lady Hornets before getting a steal and finding her sister Emily behind the defense for an easy lay-up making it 15-11 Trumann with 4:30 left. McGuire hit one of two free throws for Trumann, Edwards hit two free throws for Harrisburg as Simmons and McGuire scored back to back buckets for the Lady Wildcats to make it 20-13 Trumann. Cassie Armstrong added one of two free throws for the Lady Hornets with 30 seconds left as the Lady Wildcats took a 20-14 lead to the half.
Full game article in January 5 edition of the PCDT!