Turner, Booker lead Wildcats to Kell Classic victory
Sunday, January 8, 2017
Wildcats beat Hoxie 77-64 this past Saturday in the opening round of the Kell Classic being played in Swifton.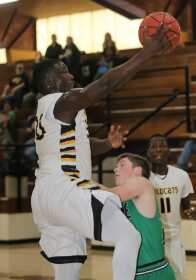 Booker canned a three-pointer to open the game giving Trumann a 3-0 lead only to see Hoxie answer with a three-pointer to tie the game. Booker stuck back an offensive rebound as the Mustangs netted another three-pointer and added a jumper to take an 8-5 lead. Turner got a stick back basket for Trumann, Hoxie hit a jumper, MJ Barnes scored inside for the Wildcats as the Mustangs hit one of two free throws and a jumper to make it 13-9 Hoxie. Turner drilled a three-pointer for the Wildcats and followed with a basket inside to make the score 14-13 Trumann with 2:27 left. Hoxie scored the next six points before Booker hit two free throws for the Wildcats to make the score 19-16 Mustangs at the end of one.
The Mustangs hit two free throws and netted a three-pointer to push their lead to 24-16 early in the second quarter before Turner got a stick back basket for Trumann to make it 24-18 Hoxie. The Mustangs hit a three-pointer before Trumann got one of two free throws and an offensive rebound basket from Cody Roland to make the score 27-21 Mustangs. Hoxie canned another three-ball only to see Trumann get a jumper from Roland, back to back baskets from Turner before Turner drilled a three-pointer to make the score 30-30 with 2:50 left. Hoxie hit two free throws, Booker had a steal and lay-up for the Wildcats, the Mustangs scored inside as Roland scored from the paint for Trumann to make the score 34-34 at the half.
Pick up a January 5 copy of the PCDT for full article!