Tyronza City Council passes budget
Friday, January 13, 2017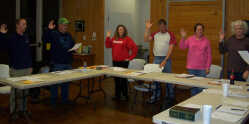 The Tyronza City Council handled two main items of business Tuesday night, one of which was passing the 2017 budget.
The budget included a two percent raise for all city employees. There was some discussion over whether or not the city could afford to give a two percent raise given how tight the General Fund is, but Mayor Charles Glover realized he forgot to include the Act 833 money which will be used for utilities for the fire department. That frees up $3,500 from the General Fund. With that adjustment in mind, the council approved an ordinance adopting the 2017 Budget.
The council also heard from the business owner of Tyronza Auction who wanted to know why they were being charged a $225 fee for their business license this year. The council had been under the impression that Tyronza Auction was running two businesses out of the same location: music on Fridays and an auction on Saturdays. That would have meant, according to a 2007 ordinance, that they would have to pay the full price of $50 for the first business and $25 for the second. In addition to that, there is an auctioneer fee of either $50 a day or $150 a year.
However, the business owner said they don't charge for the music, meaning they only run one business. Alderman Michael Hood said he had checked with Lepanto and Marked Tree, and they don't charge the $150 fee if the auctioneer is also the business owner, which is the case with Tyronza Auction. He suggested the ordinance be amended to strike out the auctioneer fee. After some discussion, the council tabled the matter until February.
The council also approved appointments for the Planning and Zoning committee. Steve Griffin was added to Planning and Zoning, and Donna Wood was added as secretary and a non-voting member.
In announcements, the Stars and Stripes committee will meet at 6:30 p.m. on Tuesday, Jan. 17, at the senior center. Anyone who wants to help plan is encouraged to attend.